Give Back to your local Community
Volunteer
Volunteer with Your Local United Way
United Way of Cache Valley has on-going volunteer opportunities for the following areas:
Website and Social Media Coordinator Weekly Support
Fundraising and Donor Coordination with Workplace Campaigns
Event Support
Looking for a great opportunity to do your internship?
Please contact Jimmy Birman at [email protected]
Invest in Your Community & Volunteer
The Cache Valley Volunteer Center was created to provide service opportunities for individuals, groups and agencies in our community and is a tool to help those who want to share volunteer opportunities.
Please click on the link below to the United Way of Cache Valley-Give Pulse Website to Volunteer.
United Way of Cache Valley | GivePulse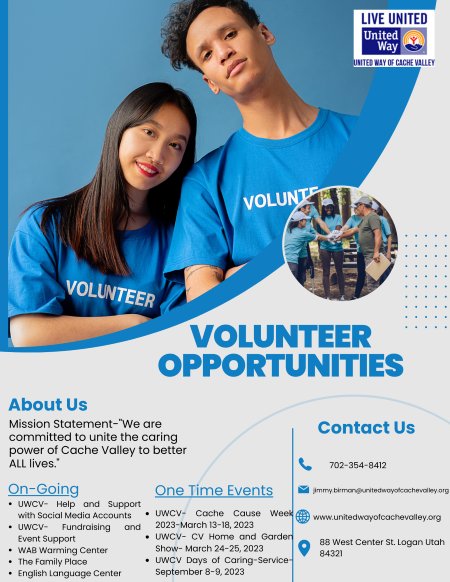 List your Service Opportunities
Volunteering Opportunity
Submissions are reviewed by our staff and published. If you have any questions or do not see your information published you can contact our office at 702.354.8412