Volunteer with Your Local United Way
United Way of Cache Valley has on-going volunteer opportunities for the following areas:
Community Impact Coordinator
Fundraising and Donor Coordinator
Looking for a great opportunity to do your internship?
Please contact Jimmy Birman at [email protected]
Invest in Your Community & Volunteer
The Cache Valley Volunteer Center was created to provide service opportunities for individuals, groups and agencies in our community and is a tool to help those who want to share volunteer opportunities.
RSVP of Cache & Rich Counties
Sponsored by AmeriCorps Seniors & Sunshine Terrace Foundation
Title: Adults 55+ Needed to Provide Companionship to Home-bound Seniors
Description: 
We need friendly volunteers 55 and older that like to chat on the phone, have a good listening ear, and are willing to spend an hour a week conversing with a lonely aging member of our community. 
You can safely volunteer from home and have a flexible, personalized schedule. 
Your emotional, physical, and social well-being will be boosted as you help others!
You are matched with a client based on personal interests and client preferences to help start the relationship off well. 
You may transition into in-person visits once local COVID-19 guidelines permit if desired by both you and your assigned client. 
Volunteers must undergo and pass a background check and attend an orientation before accessing client personal information (name, phone number). 
Point of Contact: 
Hannah Cragun
P: 435-760-4472
E: [email protected]org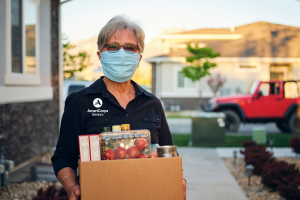 To view all available opportunities, click the link below. 
Volunteer Opportunities
List your Service Opportunities
Volunteering Opportunity
Submissions are reviewed by our staff and published within 48 hours. If you have any questions or do not see your information published you can contact our office at 702.354.8412